We are a group of like-minded women from all walks of life, working tirelessly to better Puerto Rico for generations to come. Our team will continue with the long-term efforts to support and aid the people of Puerto Rico by providing services that increase access to disaster relief and preparedness, healthcare and wellness, and education.
Linka Matos, MD, JD
Vice-president
San Juan, Puerto Rico
Dr. Linka Matos Rivera is an anesthesiologist specialized in interventional pain management, regenerative medicine, acupuncture, and traditional Chinese herbal medicine.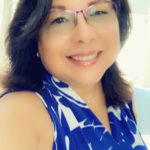 Millie Ramos
Chief Operational Officer
Mildred J. Perea, MD
Social Media Coordinator
Tampa, Florida
Puerto Rican Pediatrician practicing in Tampa, Florida. She is a mother of two and creator of Chronicles of a Juggling Mom.
"I have joined PRRU to be able to give back to my community and see my fellow Puerto Ricans thrive."
Kermin Martinez
Grant Writer
Rochester, New York
Dr. Kermin Joel Martínez-Hernández was born and raised in Guánica, Puerto Rico. He is an Associate Professor in the Chemistry Department at St. John Fisher College in Rochester, New York. He teaches general chemistry classes and organizes teacher workshops about differentiated instruction and problem-based learning. He has vast experience facilitating: Entering Mentoring, Facilitator Training for Entering Mentoring, and Culturally Aware Mentoring training to diverse backgrounds across career stages in STEM and related fields both in-person and virtually.
Von Marie Rodriguez-Guzman
Grant Writer
Rhode Island
Von Marie Rodriguez-Guzman, PhD is a licensed Clinical Psychologist and a Research Fellow at Rhode Island Hospital and The Warren Alpert Medical School of Brown University. She completed her pre-doctoral internship and first post-doctoral experience at Sunset Terrace Family Health Center at NYU Langone. Dr. Rodriguez-Guzman works as a supporting writer seeking funds for PRRU, Inc.
Migna Guzman
Chief Financial Officer
New York, New York
Migna Guzman is an independent options and stock trader. Previously, she held senior management roles at Fortune 500 companies Warnaco and Liz Claiborne. Migna holds a Bachelor of Science in Marketing from the University of Bridgeport.
Félix Seda
Regional Manager
San Juan, Puerto Rico
Born and raised in San Juan Puerto Rico and has experience working in humanitarian-volunteer organizations. Has worked in leadership, administration, team building and project management. Currently undertaking his Ph.D. in psychology in researching mental health after traumatic events.
Michelle Ramírez, MD
Editorial Director
Brooklyn, New York
Dr. Ramírez lives in Brooklyn, NY. She is a Pediatric Critical Care physician and founder of Dream Vibrant Health.
Margie Gerena Lewis, MD
Education Director
Akron, Ohio
Margie Gerena Lewis, MD is a mother of two and a physician living in Akron, Ohio. She has done volunteer medical and non-medical missions to Ecuador, El Salvador, and Haiti. The Coqui Education Program stems from her idea of "Adopt-A-School Program" where individuals, organizations, or corporations can adopt a school of their choice to help design a needed program.
Chrys Cuencas
Volunteer Coordinator