We are a group of like-minded women from all walks of life, working tirelessly to better Puerto Rico for generations to come. Our team will continue with the long-term efforts to support and aid the people of Puerto Rico by providing services that increase access to disaster relief and preparedness, healthcare and wellness, and education.
Michelle Ramírez, MD
Secretary |Editorial & Disaster Relief Director
Brooklyn, New York
Dr. Ramírez lives in Brooklyn, NY. She is a Pediatric Critical Care physician and founder of Dream Vibrant Health.
Migna Guzman
Treasurer| Chief Financial Officer
New York, New York
Migna Guzman is an independent options and stock trader. Previously, she held senior management roles at Fortune 500 companies Warnaco and Liz Claiborne. Migna holds a Bachelor of Science in Marketing from the University of Bridgeport.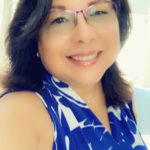 Millie Ramos
Chief Operational Officer
Puerto Rico
I worked for 32 years at the University of Puerto Rico, Rio Piedras Campus. My preparation in Business Administration led to my career in the UPR that spanned from Statistics Official, Budget Analyst, and Auxiliary Dean in Administrative Affairs in the School of Architecture during my last years there. Besides being passionate about sustainability, environmentalism, livable communities as well as being of service to others, I am a passionate believer in volunteer service, and since my retirement has retaken with enthusiasm. In the last few years, I have enjoyed being of service to various non-profit organizations.
María G. Mongil Lomba
Volunteer Coordinator
Humacao, Puerto Rico
María G. Mongil Lomba was born and raised in Humacao, Puerto Rico. Currently, she is completing a bachelor's degree in Mechanical Engineering and a minor concentration in Project Management from the University of Puerto Rico at Mayagüez. 
Mildred J. Perea, MD
Social Media Coordinator
Tampa, Florida
Puerto Rican Pediatrician practicing in Tampa, Florida. She is a mother of two and creator of Chronicles of a Juggling Mom.
"I have joined PRRU to be able to give back to my community and see my fellow Puerto Ricans thrive."
Chrys Cuencas
Executive Assistant
San Juan, Puerto Rico
Chrys M. Cuencas Cuencas was born and raised in San Juan, Puerto Rico. Currently, she is completing a bachelor's degree in Secondary Level General Sciences from the University of Puerto Rico at Rio Piedras. She has worked with various local non-profits in projects supporting children and youth development with a particular interest in transdisciplinary health research. 
Eimy Rivera
Social Media Director
Puerto Rico
Eimy Rivera is a fashion designer who specializes in fashion sustainability. She is currently doing a BA in International Business and she's also the founder of the resort womenswear brand Eimy Marie The Label. She loves working with websites, blogs, and social media.
Kermin Martinez
Grant Writer
Rochester, New York
Dr. Kermin Joel Martínez-Hernández was born and raised in Guánica, Puerto Rico. He is an Associate Professor in the Chemistry Department at St. John Fisher College in Rochester, New York. He teaches general chemistry classes and organizes teacher workshops about differentiated instruction and problem-based learning. He has vast experience facilitating: Entering Mentoring, Facilitator Training for Entering Mentoring, and Culturally Aware Mentoring training to diverse backgrounds across career stages in STEM and related fields both in-person and virtually.